Welcome To Flat Creek M.B. Church
"Saved By Grace, Through Faith, The Gift of God!"
Welcome to

Flat Creek Missionary Baptist Church
(FCMBC)

located in East Carondelet, IL. We would like to first thank GOD for keeping Flat Creek standing here in this place for so many years, to our Pastor who let GOD lead him to guide us in the right direction, our First Lady for sharing her husband and life with us, and to all of our dedicated Members for the things they do in making Flat Creek the place of worship that it has become.

Always know You are Very Much Welcome at this House of God. In the words of Pastor Rhoden, "Don't go Home to Glory without stopping by FCMBC."
208 Years Serving God (1809 - 2017)
Eternal Love
From
Flat Creek Missionary Baptist Church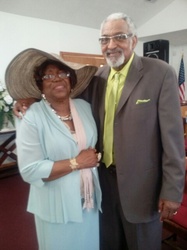 Pastor (Emeritus) S. Gene & 1st Lady Sackie Rhoden
Church Theme Scripture Text: Ephesians 2:8 - For by Grace are ye Saved through Faith; and that not of yourselves: it is the Gift of God!
E-mail us at: fcmbc@htc.net
Weekly Scheduled Church Events
Sunday School - 9:30 a.m.
Sunday Worship - 11:00 a.m.
Wed Prayer Mtng/Bible Study - 6:00 p.m.
Wed Choir Rehearsal - 7:00 p.m.
FCMBC's Eternal Theme:
Remembering The Past, Celebrating The Present, Hope For The Future